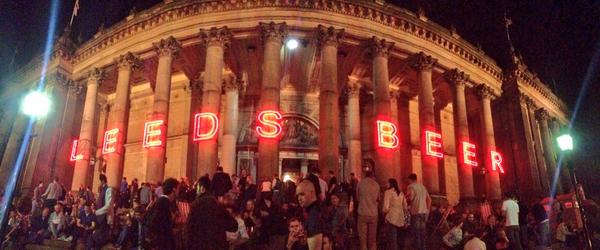 photo by @leonstaff
So, I went to the opening of Leeds International Beer Festival last night (like a geek - or a boss, depending on who you ask). Everything seemed in it's right place, like a well-oiled version of last year, with added neon. I thought I'd take a moment to collect some thoughts about it while the experience was still fresh in my (slightly hungover) mind. Here are some of them:
Leeds Town Hall is a quite a nice building isn't it? Maybe the US & EU bars have a bit more of a soulless vibe, being cut off from the rest of the festival, but overall, it's a great venue.
Magic Rock destroy pretty much everyone. Their Tequila-barrel-aged Slapstick is a delight. Wonderfully tart, smooth complex mouthfeel and VERY refreshing. It's good to see a smaller UK brewery successfully barrel-aging beers, because I've had some (the breweries responsible shall remain uncredited) that were a sloppy mess.
Did I miss the Friends of Ham Teepee? Is it hiding behind the party tent (see below)?
There's a "party tent" outside now.
This probably says something about the significant improvement in the availability of US beers in the UK over the past few years (and my jaded-beer-geek nature), however, there's nothing really available in the US bar that I haven't tried. Of course, there's plenty of good stuff here, so if you haven't tried Founders or Stone, for example, do so! Conversely, the European bar downstairs is full of nice surprises, with loads of stuff on keg I have never seen before in Leeds from Friegeist, Cervesa Marina, Camba, & Edge Brewing.
From what I tried last night, Freigeist does live up to the hype - nice gose, dudes. Can we see gose more regularly? N.B. this is a call to all brewers reading this to start brewing more gose.
Why is Buxton and Partizan not here? I mean, I know there's a lot of good stuff available, but the absence of Buxton beer in particular, reminds me of how much I love Buxton beer.
Those free arcade machines in the US beer bar are going to be way more popular after everyone learns they are there.
Keep your eye on Northern Monk Brewing. They might still be a bit rough around the edges (although their Black IPA was one of the better examples I've tried recently!), but once they get comfortable in their new brewery/brewpub (coming soon) - LOOK OUT!
In the foyer, you'll see Beer Ritz is not there this year. Instead, there is Drew Millward. He is selling some great screenprints and you should buy some of them.
Overall, Leeds International Beer Festival is clearly one of the better beer festivals in the country, on par with Indy Man Beer Con in Manchester - easily the best two festivals in the North and both are held in really great venues. So, we got it pretty good up here! What are your thoughts? Feel free to comment below!
Posted by Jeff